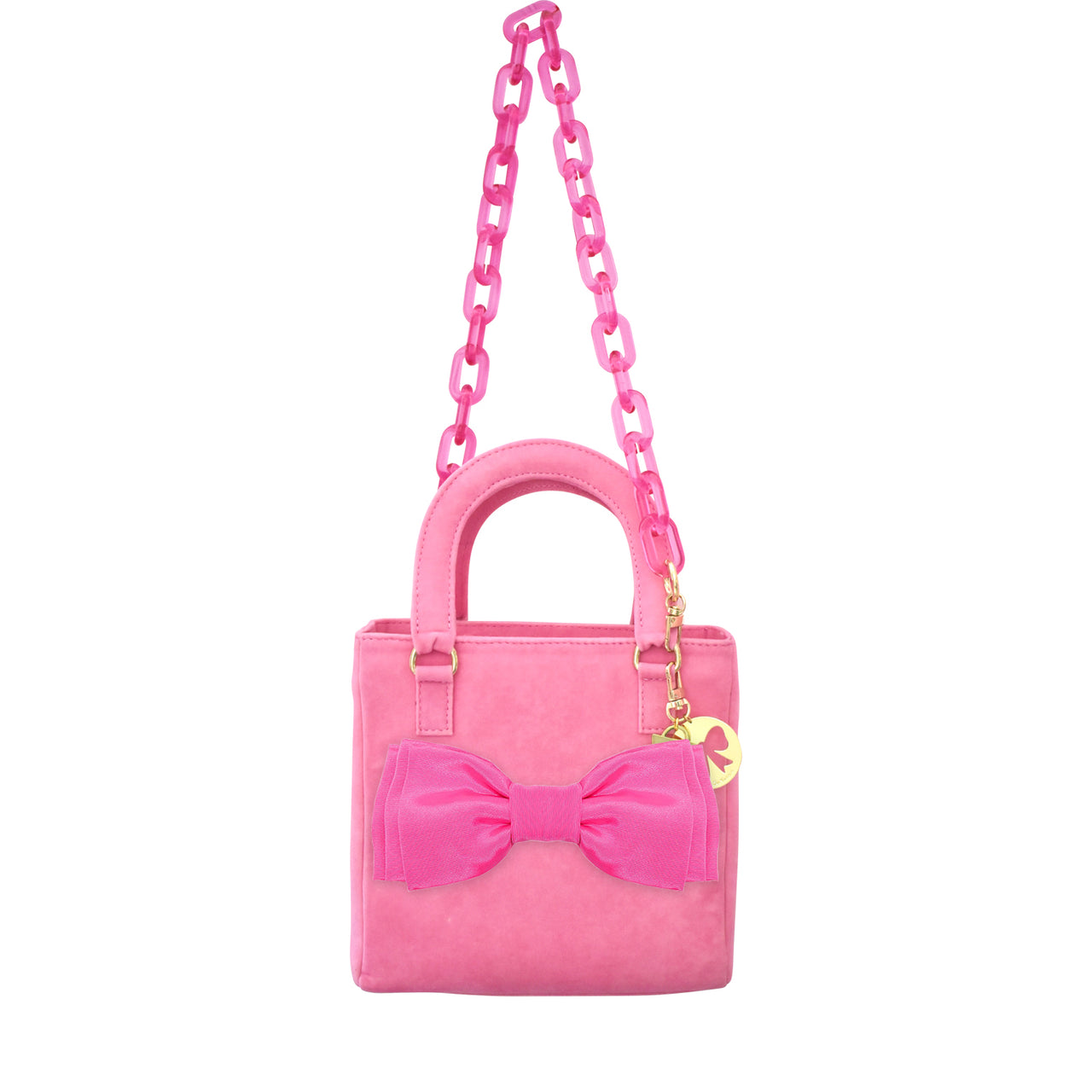 We are taking The Worth to the next level with the newest luxe fabric in our collection, The Pink Velvet. Your must-have bag for any season, the luxurious velvet has a sophisticated sheen that is a must-have for afternoon or evening adventures. Whether you're shopping on the avenue, lunching with the ladies, or dashing out for dinner and cocktails, this handbag is the perfect complement to any outfit you will put together!
The Pink Velvet Worth Luxe Handbag can be adorned with all our Dress For Cocktails adornments.
The newest addition to the collection, let me introduce The Black Boucle Luxe Worth Handbag. Made of the most luxurious boucle material that has flecks of white woven throughout, as well as the most subtle, but stunning, thin white palettes, the material offers the most exquisite shimmer that will catch the eye of any discerning fashionista at all of your upcoming soirees.
The Black Boucle Luxe Worth Handbag can be adorned with all our Dress For Cocktails adornments. 
Inside you'll find a small pocket to securely hold calling cards and credit cards, and a large pocket that gently protects and carries your glasses or sunglasses. The interior of the bag holds all other essentials such as lipstick, compact, wallet, brush, keys, pen, cash and a large mobile device!
When you carry The Luxe Worth Handbag, your classic style and sophistication will be the talk of the town!
THE LUXE WORTH HANDBAG PRODUCT DETAILS:

Dimensions (tote): 8" x 8" x 3 1/4"
Material: Velvet made from cotton and synthetic fibers
Multiple carrying styles, including 28" acrylic chain
Two dangling charms, the large signature Dress for Cocktails glass and gold jewel quality bow charm.
How to see your custom creation: Select your Dress for Cocktails cocktail clutch. Select your interchangeable bow or flower and voila! You are READY for cocktails! 🍸
Bows, Flowers, and Jewels are sold separately.
Shop Additional Bow Styles Here