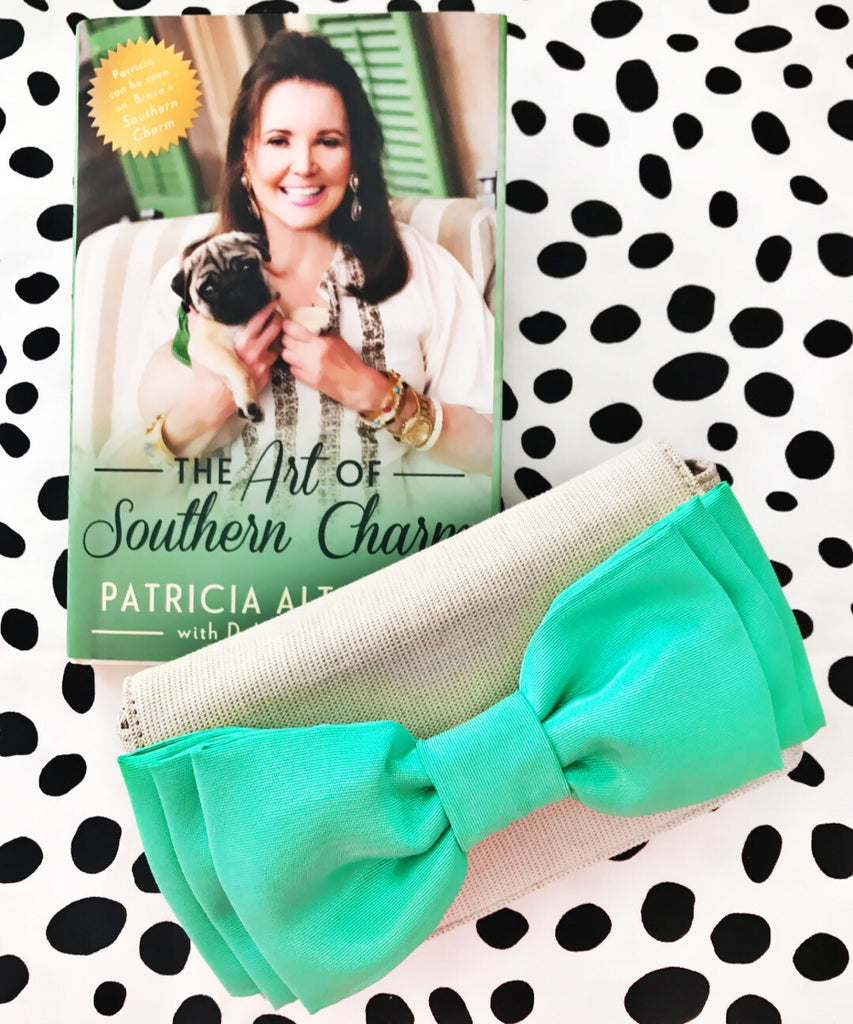 I've just finished the last pages of The Art of Southern Charm, by Patricia Altschul.  An enchanting summer read, it's filled with snippets of her glamorous life mixed with tidbits of etiquette and advice.  
There are many things I found delightful about Patricia.  Below I'm sharing my favorite takeaways, but be sure to grab a copy as there are so many gems to devour.
1.  She encourages hosting cocktail parties…
If you haven't guessed, I love a cocktail party, and yes, dressing for cocktails is half the fun.  Yet, hosting a cocktail party can feel intimidating.  As Patricia recommends, set a time limit (6-8pm in the evening is perfect) and serve some easy to make appetizers both savory and sweet.  I always set out a cheese board adorned with various crackers and fruit.  Apple slices and grapes are my preference for their cleansing bite.  Finger sandwiches, stuffed celery and anything skewered on a toothpick are perfect for a mingling crowd.  Keep the drinks poured, the music playing and conversations will flow.  What fun!
2.  She sleeps on a satin pillow case…
Having fine hair, my hair stylist recommended that I rest my delicate locks on satin.  I've found that my hair doesn't break off when twisting and turning while I sleep.  In addition to preserving ones hair, they feel exquisite against your skin, and help to prevent wrinkles.  The one Patricia recommends is the same one I use and love: The Branche Charmeuse Case
3.  She has a stationery wardrobe...
It's always a treat to open the mailbox and see a hand-addressed note card.  Whether it's an invitation or a thank you note, it's exciting to open it.  I grew up writing thank you notes.  Each Christmas it was guaranteed that I would receive a box of stationery, so I could write notes of thanks for the gifts I received.  To this day, I relish the fine art of writing notes.  I like to use a calligraphy or roller ball pen, as they glide across the paper whimsically.  I've also worked to develop lovely handwriting, as it makes the note that much more memorable.  This of course is not necessary, as it is the gesture of the note that matters most.  I've often visited the home of a friend to see one of my notes tacked to the refrigerator door, as thought it's a pretty picture.  Be sure to keep an assortment of stationery on hand so it's easy to pen a note.    
4.  She loves a good hot bath…
Until moving into our cottage here at Marsh Rabbit Run, I ended my days taking baths.  I'm reminded just how delightful a candle-lit soak can be.  Unfortunately, our bath is not equipped with a soaking tub, let alone a fireplace and tv to accompany it.  Mr. Dasch-ing says I should trot down to the boathouse and soak up there.  Walking up the path afterwards seems to take away from the ambiance.  So I'll have to stick to resting by candlelight instead.
5.  She's happy…
I thoroughly enjoyed reading Patricia's book, The Art of Southern Charm.  Her voice speaks through with every word.  You'll feel as though you are sitting in one of her 2 drawing rooms having a chat.  
The loveliest thing I learned about Patricia is that she is truly happy.  Patricia has a glow about her, an enchanting smile (enhanced by her devotion to good oral hygiene) that evolves easily and is often coupled with a humorous laugh.  She takes charge of situations and advises us not to put up with negativity.  Especially when it comes to social media.  By blocking those pesky gnats, Patricia is "ridding the world of unpleasantness, one troll at a time."  How wonderful!
Her wit and wisdom makes The Art of Southern Charm a delightful read.  Enjoy!
Cheers!
Leslie