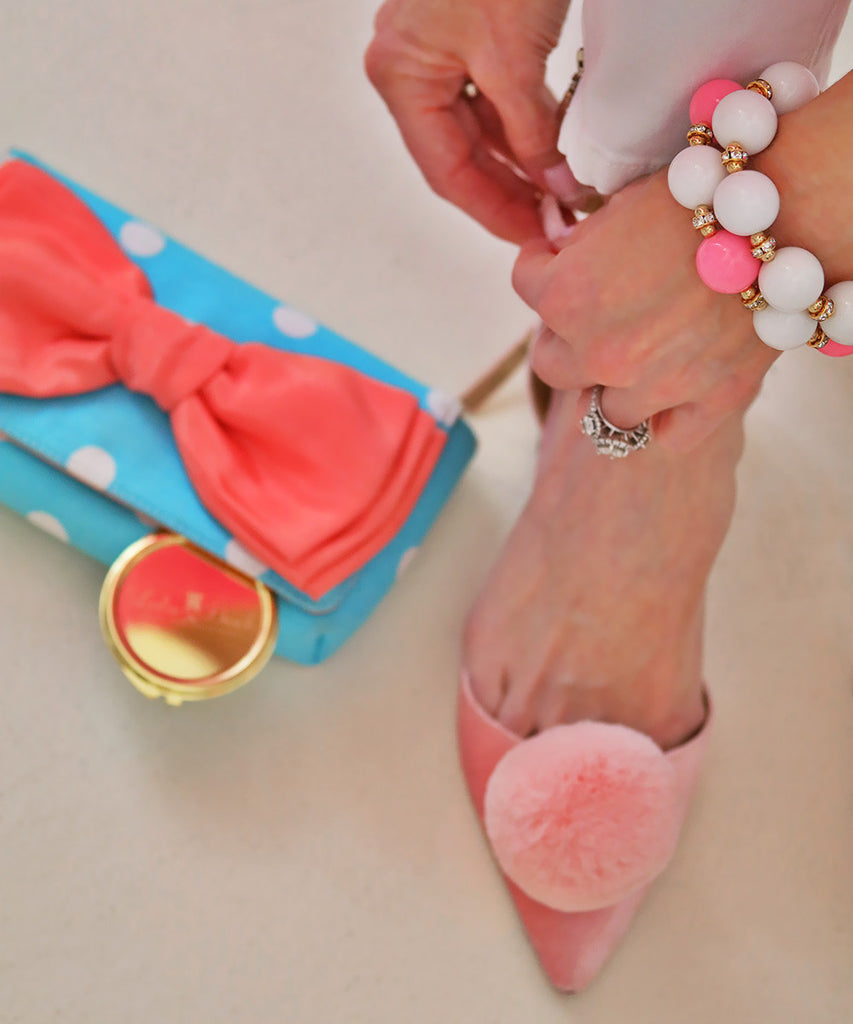 Let's admit it, we're all obsessed with shoes!  Pretty shoes, shoes with bows, shoes that make our legs look long, shoes we buy and never wear, the list goes on and on.  Just yesterday Mr. Dasch-ing commented on the bag of shoes I was carrying in.  He winked when he said, "Oh, my dear, and what do we have here?  Another pair of shoes?"  I quickly responded, with a touch of defense, and said, "but these are comfortable shoes."  And he laughed roaringly.  
So it got me thinking, I've become a master at making shoes more comfortable.  Partly out of necessity.  We live close to town, so we will often walk to and from the Avenue for dinner.  Doing whatever I can to make my feetsies comfy is key.
I've put together my list for making your shoes more comfy:
1.  Prep your feet before slipping on the pretties.  Applying transparent deodorant to any area that may rub against your skin uncomfortably, will prevent chafing.  If you're unsure about the lasting comfort of your shoes, stash a tube of lip balm in your Cocktail Clutch, it works well in a pinch too.
2.  Stretch those puppies.  I've used shoe stretchers  for as long as I can remember.  Spray the inside with shoe stretching spray or wet the shoe itself.  If you're like me, one foot is a tad bigger than the other.  I often find while one half of the pair fits well, the other is snug.  I've made countless pairs of shoes more comfortable by stretching them out.    
3.  The easier it is to slip on your shoes, means the easier it is to slip out of them.  Select shoes that will stay on your feet.  A slingback or pump, over a mule or slide, and anything with strap is better.  Making smart choices while purchasing, will make a big difference when wearing.  Adjustable straps and buckles will make sure your heels fit snuggly to your feet, which helps avoid the unnecessary rubbing and irritation that cause blisters and discomfort, according to Courtney Barry, the Merchandising Brand Manager of ShoeBuy.
4.  With that said, sometimes the straps can cause discomfort around the ankle bone or rub the upper heel.  I've been known to cut my cushioned inserts to fit inside the strap.
5.  Use inserts.  I'm all about creating cushiness.  If I'm buying flats I typically size up by 1/2 a size and add a heel insert.  Foot Petals are my favorites.  They keep the back of the shoe from rubbing my heel.  I use these in every pair of flats I own - it's my must have!  For heels, I alway put a cushion under the ball of my feet.
6.  According to Harvard Medical School research, it's best to shop for shoes in the afternoon or later in the day.  Throughout the course of the day, your feet will naturally expand.  This will ensure that you've made the right decision when choosing between 7 1/2 or 8.
7.  Before purchasing your shoes, be sure to feel around the insides to find any harsh seems, tags or other material that could irritate your pretty feet after wearing them for an extended length of time.  It might be as easy as selecting a different box of the same shoe.  If you get them home and notice a rough spot, try smoothing it down with an emory board.  And at the end of the day, if all else fails, pour yourself a night cap and soak those tootsies in a warm foot bath of green tea, it has natural anti-inflammatory properties.  Then it's 
Fluffyslippers 
 for the rest of the night!
Cheers!
Leslie